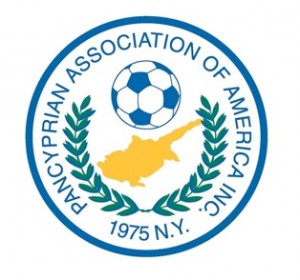 What do the Seattle Sounders and an amateur team in Queens, New York have in common? Other than being founded only one year apart, they both have won the U.S. Open Cup three times. Meet the New York Pancyprian-Freedoms of the Cosmopolitan Soccer League, this historic club was at one point the last club to be repeat as Open Cup winners before the Sounders recent three-peat.
The origins of success of this impressive club go back to 1974 when they were formed by the Pancyprian Association of America during the Turkish invasion and occupation of Northern Cyprus. The club spent their early years in the Long Island Soccer League until 1979 when they joined the Cosmopolitan Soccer League and won it that same year. Over the 32 years of the clubs history they have won the league seven times as well as winning the Open Cup three times. They followed up their final Open Cup win with a impressive thrust into the Concacaf Champions Cup, defeating the Honduran Champs Deportivo Vida and Mexican club Puebla before being disqualified after not being able to agree a match date with Chivas de Guadalajara.
While the current Freedoms have a diverse roster, during their glory days much of the spine of the club were former professional Greek players and young college players involved with the association. At the peak of the clubs success they boasted Papaioannou (AEK Athens) and Domazos (Panathinaikos) who widely regarded to be two of the revered Greek players to play the game.
Due to the triumphs of days gone by the club has put a firm effort and focus in Open Cup play. In the 2011 edition of the Open Cup the Freedoms played their long hated rivals the Brooklyn Italians (once known as the Brooklyn Dodgers) to a 2-1 victory. This was the most decorated first round match between any two clubs in the history of the cup. The second round cup tie saw the Freedoms up go toe-to-toe with FC New York in a memorable New York derby that packed Belson Stadium. The game was a long fought nil-nil despite the Freedom being up a man due to an FCNY red card. A penalty shootout saw the Freedoms bow out of the second round as FCNY won it 6-5.
In this most recent edition of the Cup Pancyprian was knocked out in qualifying in the Greco-New York derby by N.Y. Greek American Atlas (or N.Y. Greek AA) 4-0 at Belson. These New York derbys' could become more regular in the USOC' due to the regional formatting of the competition.
Although the Pancy-Frees may be out of the Open Cup they still have the CSL to play for where they currently sit in second place. The winter break ends in the beginning of March and the schedule for the second half of the season can be found at the Cosmopolitan Soccer League's website. [www.cslny.com]