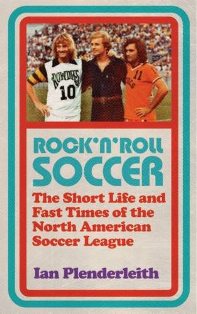 New York, NY - Reading a book at an empty stadium is one of the most peaceful experiences anyone can ever have. Something about the open space while feeling a nice breeze on a sunny day is relaxing.
The distractions of everyday life are removed for at least an hour or two. Remember, this is before the match itself is played. As a result, I'm able to fully appreciate the book that I'm currently reading. In my opinion, no tablet will ever replace the feel and smell of a new/old book.
In my all my years of reading, no book I ever read had run out of power. Sure some missed a page or twenty and had scribbles beyond comprehension but it's those little things that makes reading a book worthwhile.
Thanks to Icon Books, I had the opportunity to read Ian Plenderleith's book, Rock 'n' Roll Soccer: The Short Life and Fast Times of the North American Soccer League. So who is Ian Pleanderleith?
As stated on his website, RockNSoccer.com, "Ian Plenderleith is a US-based British football writer and journalist. He has been writing about football for the past twenty years for publications including the Guardian, The Wall Street Journal, When Saturday Comes and Soccer America. Resigned to a life starved of success following Lincoln City and Scotland, he leaves his desk on evenings and weekends to coach, play and referee the beautifully frustrating game. He lives just outside Washington DC."
Rather than give you a concrete review of a book I recommend that you add to your NASL collection, I wanted to introduce you to the author himself. The fact that Ian interviewed many of the people we know within our soccer community made me appreciate his book even more.
If you're part of our global and yet intimate soccer fraternity, you know what I'm talking about. Plus, anyone who can convince Tampa Bay Rowdies great Rodney Marsh to write a foreword for his book is worth chatting with. Enjoy the interview and I'll see you at the next home match!
What was your motivation behind writing your book about the NASL?
The NASL is one of the most fascinating leagues in soccer history, for a number of reasons. It always amazed me that there was no NASL book giving an overview of the whole league, rather than just something superficial about how often the New York Cosmos went clubbing.
Working as a freelance soccer writer in the US, I wrote a few features on various aspects of the NASL, and eventually realised that there was more than enough material for a book. In fact, the current book could easily have been twice as long.
How long did it take you to write the book?
The background knowledge you pick up before you even properly think about writing a book like this is accumulated over several years. Once I had outlined what I wanted to write, and had signed a book contract, then I spent a very intensive year researching and writing the book.
Being a writer isn't a normal job (that's why I wouldn't really recommend it to anyone), so once you're handed the opportunity to write a book on a topic you really love and care about, then you tend to throw yourself into it, to the exclusion of all else.
What was your experience working with Icon Books?
Icon has been tremendous. They are a small, independent publisher, quite unlike the almost faceless conglomerate I worked with on a previous book. You get to work closely with everyone in the company through every stage of the book's production, and they have been really enthusiastic about Rock n Roll Soccer right from the start.
Writers are very fragile, so it's been great to work with a team that has been so positive and encouraging, and also to have that human touch. You send them an e-mail, you get a response.
What was more enjoyable, the research or the interviews?
Both. I loved the research aspect – leafing through countless old soccer magazines and books that had been in my cupboards for years, and finally being able to say to my wife, "See! I told you they'd be useful some day." I spent a lot of time in the magnificent Library of Congress in Washington DC, and if they'd only had beds there and an all-night bar I would probably have moved in.
The interviews were great fun, too – almost everyone I contacted was happy to talk about a period that we all felt had been neglected by soccer history. Some of the former players would still be talking now if I hadn't called time on them – just wonderful blokes who were willing to give up their time to a hack they didn't know from Adam.
What was it like to interact with Rodney Marsh?
Rodney was one of the first people to agree to an interview, because he understood straight away what the book was about, and why it needed to be written. He's not only funny, but a very astute analyst, so he gave me lots of material, and then later agreed to write the foreword.
Needless to say, he was one of those players that I idolised as a boy growing up in England in the 1970s – full of character and flair, and always smiling. It's amazing what a difference that makes to kids watching the game, a smile. I really wish we could see more of that in the game – from players, coaches and fans alike.
Knowing Paul Gardner and Dave Wasser personally, how helpful were they with your research?
I talked with Paul for hours because he's an ideal interviewee – knowledgeable, extremely opinionated, and very, very witty. I'm really grateful to him, because he keeps emerging throughout the book, and he gives these sparkling little interludes that can debunk in one cutting sentence everything you've written on the previous page.
A book like this needs a counter-voice, because although I'm not a cheerleader for the old NASL, I am a big fan of what it represented and what it tried to do. Paul, though, lived through the whole thing and covered it, so you have to hear his view, even though he's much more sceptical about it than me.
Dave was also an invaluable help for game footage, and for contacts. Once I was driving down to Atlanta to interview Dick Cecil, the former Atlanta Chiefs vice president, and I sent Dave an e-mail from Knoxville or somewhere asking if there was anyone else in Atlanta I could talk to.
He answered and within half an hour, and put me in touch with Dave Chadwick, another great character who'd lived through a decade of the NASL as a player and a coach. So I doubled the value of that trip, thanks to Dave. There were countless things like that he helped me on.
How difficult is it to juggle your personal and professional lives when writing a book?
My wife and two teenage daughters tend to leave me well alone when I'm working on something like this. They were very understanding of how important it was to me. They're all soccer fans, to varying degrees, so their eyes didn't glaze over too much when I was holding forth over dinner about the Las Vegas Quicksilvers…
What is your fondest memory of the NASL?
Well, I was a small boy in England when the NASL was happening, so my actual memories are limited to what I used to read about it in soccer magazines. Even then, though, I was intrigued by it – the garish kits, the plastic pitches, the showbiz approach to sport. And then it was suddenly gone and it seems everyone forgot about it except to mention the Cosmos as a curious footnote in Pele's career.
How did the NASL impact soccer globally?
I think it gave soccer a much needed kick in the ass.
The global game was complacent in the 70s, living off past glories and the unquestioning loyalty of a dwindling number of hard core fans. Yet it was beset with violence off the field and in its stadiums, the game's finances were wretched, and the quality of play was being dragged down by negative tactics.
The NASL unashamedly tried to attract fans and make the game entertaining again, and it didn't see anything wrong with that, no matter how crass the approach sometimes was.
In the late 70s, clubs in England and Scotland started sending people over to the US to see what was going on – how you could attract families to games, make the stadiums safe, give everyone a decent view of the field and not treat them like cattle. I think a lot of people were intrigued by the innovations in the rules as well – the game desperately needed change.
Not all of the NASL's ideas were good ones, but they got people thinking. The NASL was, perhaps unwittingly, the model for the Premier League – big stars playing in massive all-seater stadiums to a global audience for ridiculous amounts of TV money. It's the NFL model that the NASL almost aped, but it ran out of time and money.
What's your opinion of the current NASL?
Rodney Marsh somewhat unkindly compared it to watching a pub league. I'm all for  more leagues, more teams, more games, at whatever level. I think the potential backing is there for the NASL to grow to become more than just a second tier or feeder league just below MLS, and maybe eventually merge to create a single national league. That's a while down the line, though.
Where can readers find your work?
Google it! I still contribute regularly to When Saturday Comes, and occasionally write for Soccer America online. My first book, which was soccer fiction for adults (For Whom The Ball Rolls) is still kicking about the internet on eBay. Or follow me at www.rocknrollsoccer.com.
About Icon Books
Icon Books is an independent British publisher formed in 1992 which publishes popular, engaging and sometimes provocative non-fiction for adults.
Icon were, for a number of years, best known for a series of illustrated, witty but intelligent guides to subjects such as Freud, Postmodernism and Einstein. Originally called … for Beginners, and now Introducing, the series is known throughout the world and is the cornerstone of Icon's success. See more at the series' website here.
The company has, however, moved in the past decade into more orthodox trade publishing, producing many stand-alone successes. We have been proud to gain a reputation amongst the trade in recent years for being a brave, aggressive, forward-thinking and original publisher with a knack for succeeding in many diverse areas. We have particular strengths in politics, popular philosophy and psychology, history, sport, humour and, especially, popular science.