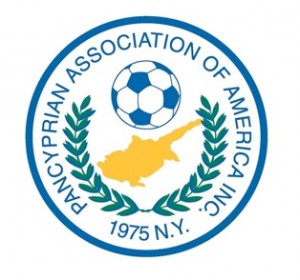 It was a rainy night in at Belson Stadium, as the New York Pancyprian Freedoms battled their long-time rivals the Brooklyn Italians. With a combined ten open cup championships between the both of them, this was the most decorated first round match between any two clubs in the history of the cup.
The wet and blustery weather didn't stop the Pancyprian supporters from almost filling the grandstand at Belson as the rivalry even brought Brooklyn supporters into the stadium.
With everything on the line this match was roughly contested with both clubs struggling to hold steady possession due to the wet conditions and and tight defensive marking. In the end it came down to the showing of individual skill from the former Chicago Fire forward Stefan Dimitrov, which proved to be the difference in this rivalry as his brace was enough to take the Freedoms over the Brooklyn Italians 2-1.
It was a close match overall with all of the goals coming in the second half, starting in the 65th minute with the former USL player Julio Cesar Dos Santos putting a cross into the box for the Bulgarian to latch onto to put the Freedom up 1-0.
The game was equalized and the home crowd was silenced in the 80th minute as Kordel Samuel put the ball in the back net after capitalizing on a spell of good chances for the Brooklyn club to level the match at 1-1.
Celebrations for the away fans didn't last, as one minute later the Freedoms found themselves in the lead again. Dimitri putting home a cross from Stelios Andreou to give Pancyprian the winning goal in the 81st minute, 2-1. The Freedoms closed up shop in the end preserving their one goal advantage to take them into the next round of the US Open Cup.
These New York derbies could become more regular in the USOC' as the Freedoms move on to host their newest rival FC New York in what would be a turf war as both clubs are co-tenants in the stadium. The winner of the second round becomes the representative for New York City as the third round could see them pitted against the Harrison, New Jersey club the Red Bulls when the MLS teams enter the tournament. The second round begins on June 21st.