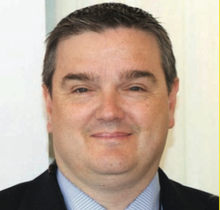 There is a lot of questions about Terry Byrne and his role with the New York Cosmos. Byrne, who is most notably known for being David Beckham's personal assistant is listed as "Director of Soccer" according to the
Cosmos
home page. There are those that speculate that Byrne is keeping a seat warm for David Beckham.
However, Byrne recently spoke with spoke with
CNN
about a potential derby match in NYC
"Rivalry within sport is a good thing and I believe the MLS would welcome one in New York," Byrne told CNN. "The League has it in Los Angeles where you have Galaxy and Chivas sharing their stadium and city and the games between those two teams always create a fantastic atmosphere and a healthy rivalry."
The story goes on later to say
"Byrne, however, believes the introduction of the New York Cosmos into the MLS could help conjure exactly that kind of local friction. "The Red Bulls have done a fantastic job within their new stadium out in New Jersey and we believe the City of New York would welcome a similar stadia and team within its city," he says, highlighting the fact that the Red Bulls would be out-of-towners compared to his Cosmos who plan to locate in the heart of the city. And with that, the one-upmanship -- the essential fuel for a local derby -- has only just begun..."
There really is nothing to this but it is good to see the Cosmos still in the news.
I dont think anyone can disagree with how great a "Hudson River Derby" would be. It has been something the Borough Boys and its followers have been dreaming about since day 1.
There are still a lot of questions surrounding the Cosmos' rebirth and none more important than "who is funding this?"