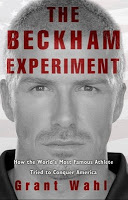 If you have been following the Borough Boys movement, I'm sure you know how big a player David Beckham could be in the future of a Major League Soccer franchise in New York City. For those of you who are just learning of us, here's a bit of a recap:

-
January 11, 2007
: it was confirmed that David Beckham would join the Los Angeles Galaxy as MLS's first designated player. Soon after this, speculation began that within Beckham's contract it stated that he would have the option to own an MLS franchise once he retires

-
November 8, 2009
: People.co.uk (http://www.people.co.uk/sport/football/tm_method=full%26objectID=21806040%26siteID=93463-name_page.html ) reported that David Beckham had narrowed his choices down to three potential cities for team ownership. The cities were
Montreal
,
Miami
, and of course,
New York City
.


-
November 24, 2008
: MLS commissioner Don Garber addressed these rumors, confirming that David Beckham does indeed have the option to own the 20th team in MLS. This option could not be exercised before 2011 or before Beckham retires. Garber also dismissed
Montreal
as a potential city for Beckham, essentially narrowing down the choices to two (
New York City
and
Miami
). http://soccer.fanhouse.com/2009/11/24/ga....ormat-on-horiz/

He obviously likes the city enough to name one of his sons after the borough of
Brooklyn
, but what does David Beckham think of
New York
? Beckham had the following to say about
New York City
prior to the Los Angeles Galaxy's match against the New York Red Bulls on
August 18, 2007
(which had an attendance of 66,237, an MLS record):

"I like to be here in a great city, and one of my most favorite cities in the world. I'm not just saying that because I'm here and I have to say that, but I really believe that. I'm honored to be here as a Galaxy player... We're all happy to be here in
New York
. I think what's great about New York, and you know, you don't get it in many cities in the world and places in the world is there's a lot of positively, a lot of energy, and if someone doesn't like you they'll come up to your face and say "I don't like you." I think that's what's great about
New York
, not just that…but that's one of the great things about
New York
, it's a very energetic and honest city and that's why I love visiting here."

We at This is Cosmos Country believe that
New York City
would be an obvious choice for Beckham. It's a city that offers plenty of star power and spotlight, the media capital of the world, provides endless marketing possibilities, has a passionate and large soccer fan base, and offers a derby that could quickly become one of the largest in this region. Not to mention, his name attached to a possible Cosmos return would be a public relations wet dream for Major League soccer.