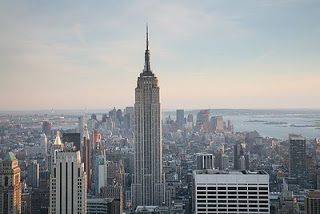 While every year you have your basic stuff to be excited about, 2010 seems like it can be an even a better year for NYC soccer and here is your guide for some key events coming up and how to be there:

The
US Men's National Team
will be having a few friendly matches leading up to the World Cup Finals in June. While some are set (
Honduras
on January 23
rd
and @ Holland on March 3
rd
) we want to remind you that US matches can be viewed at two locations: Nevada Smiths pub on
3rd Avenue
and
Jack Demsey's
pub. If you get closed out of Nevada Smiths, Demsey's is the place; it's very US-friendly as the bar management works with the Borough Boys and gives them a private room upstairs with sound. If that gets too crowded they still have two more floors to accommodate fans. Its location in Midtown at
36 West 33rd Street
will offer a great "extended lunch" option for those day-time matches.
Please go to boroughboysnyc.com for our viewing party calendar.

While located in
Harrison, New Jersey
, and not
New York City
, it is still the metropolitan area and should be noted. This stadium will be the PRIZE JEWEL of soccer-specific stadiums in this country; and for you Euro fans, it looks like it will have that Euro grounds feel. They open the doors on March 27
th
as the New York Red Bull take on Bryan McBride and the Chicago Fire. This game should be not only one to watch but one to get off your butts and get out to. One day Red Bull might be a rival to a
New York City
soccer team, but that does not mean that right now you can not go out and show your support for Major League Soccer and
US
soccer.
World Cup

No question this is the biggest event in soccer in 2010. The US Men's National Team has got a great draw and it all starts with a HUGE game against
England
on Saturday, June 12
th
. US fans are urged to go out in numbers to cheer on the Yanks, and the preferred venue for this is Jack Demsey's, as it will be US friendly and the environment will be one for the ages.
MLS Cup

This happens every year, but MLS just came out and said that the
venue will be a neutral site
, and well, wouldn't it be nice if
New York City
gets a crack at hosting this event? This really could be a special November with an MLS Cup Final in the area at the brand-new Red Bull Arena. And wouldn't it be an even more opportune time, after a World Cup, to talk about expanding to
New York City
proper?
It is going to be a great year for soccer fans and we are here to get you through it and tell you where to be.