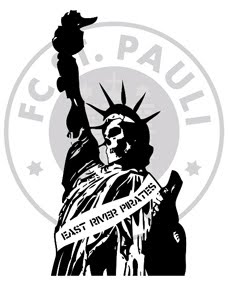 Are you a fan of FC St. Pauli?

The Hamburg based club which is best known for its "kult" like support has fans in New York City. The
East River Pirates
were founded in 2008 and have really made strides in building their stature not only here in New York City, but also over in Germany as proved in
this Spiegel article
.
Join the group for their next viewing* this Saturday, January 16th as St. Pauli face off against Rot Weiss Ahlen. The group watches its games in Williamsburg, Brooklyn at:

97 South 6th Street
Brooklyn
718.302.0511
Ways to get in touch with the Group:
Contact email:
[email protected]
Follow on Twitter:
http://twitter.com/fcstpaulinyc
Facebook Group:
http://www.facebook.com/#/group.php?gid=34846255278&ref=ts
*Please note all games shown on delay