This week is a Pub Week on Getstuckin.com. This is a week where we post stories about our favorite places to watch soccer in New York City. We have a few reviews this week by a few different members. Enjoy!
First Stop - Nevada Smiths
Nevada Smiths

74 Third Ave.

East Village, NY


Finding a good spot to watch soccer is a challenge in this country. Luckily, New York City has quite a few, but none greater than Nevada Smiths in the East Village. If you have yet to experience a match day at Nevada's, do yourself a favor and change that, quickly! With over a 100 live games per week from all regions of the world, Nevada Smiths truly lives up to its motto: "Where football is religion."

The pub generally opens up a half-hour prior to the first kick on the weekends, which can be as early as 7 a.m.! In a recent conversation with Jack Keane, director of football at Nevada's, he estimates that in a week they pull in over 10,000 patrons to watch their large array of games.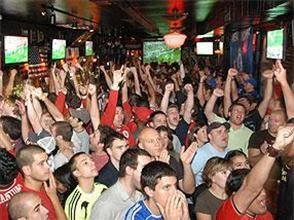 The pub is also home to many supporters clubs, such as Manchester United USA Supporters, and even smaller clubs like Brann USA, which follows a team based out of Bergen, Norway. The supporters of Brann watch the live feed on the Internet; that's how Nevada Smiths goes out of their way to make sure this group can watch their beloved team.
Nevada Smiths is just that kind of place, a place where soccer takes first priority and management will do whatever they can to get the game on for you!

Then, maybe check out the pub on an off night, because outside of being a place to watch games, Nevada's also is a museum of sorts as throughout the premises they have a collection of signed shirts and pictures chronicling its history; a history that has seen the pub become known all around the country and the world! Don't believe me? Just ask Sir Alex Ferguson and Roman Abramovich, who have visited Nevada's in the past few months.

Yes, Nevada Smiths truly is THE PLACE to watch soccer in New York City, and you should put it on your must-see list of city establishments!