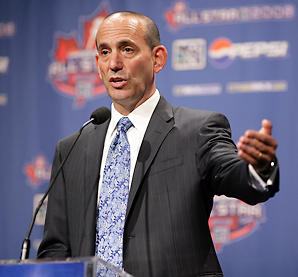 At some point during today's Major League Soccer Superdraft the topic of expansion was going to come up.
Bryan Lewis of the New York
Post got us some quotes from Commissioner Don Garber:
"We're still in discussions with a wide variety of investors in New York. That 20th team is a real priority for us,'' Garber said. "We're not just intrigued by Paul Kemsley and his partners have done with the Cosmos, I'm impressed by it. They've made a lot of really good decisions. They're very, very serious guys."
They're putting together investors that perhaps can give them the wherewithal to build a state-of-the-art facility that will be appropriate for the tri-state area. And we'll continue our discussions with them as well. We're making progress in the New York area, and we're feeling pretty good about the prospects.''
If you read the post yesterday on the Terry Byrne interview, it is clear that Garber is talking about the Wilpons and Cosmos speaking about a stadium in Queens.
Between Garber and the Cosmos, there has been a lot of talk lately, but with words like "
we're feeling pretty good about the prospects.''
coming from Commissioner Garber, one has to think, we are close.