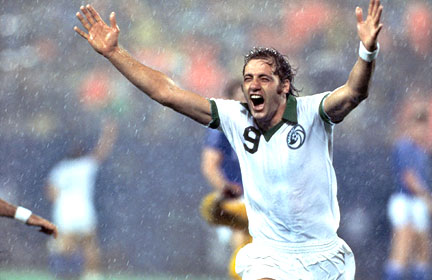 Press Release from the New York Cosmos.
October 26, 2010 (New York, NY) - The New York Cosmos today announced that Giorgio Chinaglia - four-time NASL champion and former striker for the world-renowned club - has signed on as its International Ambassador.
Chinaglia's role will comprise mainly of global appearances, speaking engagements and participation in key product initiatives. There will also be integration with his radio show "The Football Show" (Sirius Satellite Radio, Channel 125, Weekdays 7-9am EST).
Chinaglia retired from The New York Cosmos in 1983 as the NASL's all-time leading scorer with 243 goals. In 2000, he was inducted into the U.S. National Soccer Hall of Fame.
"It is important for us to respect the heritage of The New York Cosmos and Giorgio has been a big part of the club's history. We are honored to have a true legend endorse our vision during this exciting new era," says Terry
Byrne, Director of Soccer, The New York Cosmos.
"It was over 30 years ago when I first came to this club. To see it come back for our loyal fans of the past, as well as for the next generation of fans, is very exciting to me. The New York Cosmos name resonates all over
the world and I look forward to being involved to bring back the excitement of American soccer," says Giorgio Chinaglia.