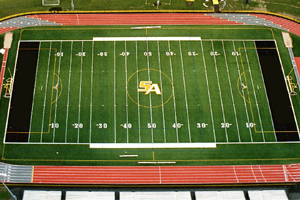 South Huntington, NY
On and nice and mild Tuesday night at Cy Donnelly Field, future PDLers the
New York Cosmos
took on a
PDL
giant who is undefeated in the current season, the
Long Island Rough Riders
. The Riders who at one time were the only semi-professional side in the tri-state area were looking to make quick work of the city kids who were going with the hopes of leaving with a draw.
After the first whistle the Cosmos had a lion's share of the possessions with some very good build up work with little results in the final third. But as with anything the Rough Riders grit and physicality started slowly wearing the Mos' down. Number 11
Adriano Gabriel
kept constantly making some key passes and the team's striker
Keith Detelj
put heavy pressure on the backline allowing for a breakaway chance to be thwarted by two unbelievable diving saves by the Cosmos' goalie. But with any hard work it normally pays off and in the 40th minute after two questionable falls in the box by Detelj the third paid off as the Cosmos defender made some contact while taking an awkward angle at the ball only to be met with a fall by Detelj and a penalty convert by Adriano Gabriel.
In the second half more woes came for the Cosmos as Detelj converted a chance the came off a broken play on a clearing attempt. Detelj found himself all alone and river danced himself around the keeper to find the back of the nylon. The third goal came shortly after that as the Riders put up some nice passing with Adriano Gabriel finding some room to pass to the open
Dominik Sarle
who converted his chance without an after taste. The final move was one of brilliance by the man of the match Adriano Gabriel who took the ball and ballistic
missiled
it over the short side of the goalie. So perfect a placement that the Air Force is looking into having Gabriel train pilots on where to drop their payloads. With the game all but one the Riders took off Gabriel and Detelj and with that came more fluidity by the Cosmos.
In the 72nd they had a chance on goal only to be denied by the extended hands of Thomas Booth. In the 84th they had an unmarked header in the box which the best chance of the match only for the striker to harmlessly miss it high, wide, and not very Fabio. The game finished with a scoreline of 4-0 and while it looked like a blowout the Cosmos possessed the ball well but fell short of the killer instinct to finish; something the Rough Riders did well. In the gist of things it was a nice night out with the weather but a game that seemed from the minute the Cosmos lost the ball to one that was going to be an epic blowout. With a year of learning however, the Cosmos should bring it all in their first full season in PDL.