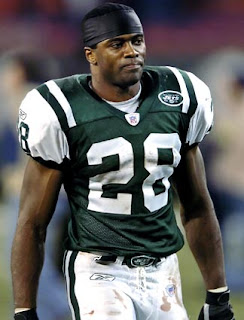 Today, the New York Times' Blog revealed that ex New York Jet Curtis Martin has shown interest in Major League Soccer and was even in Manchester for the Cosmos match on the 5th to speak to the group about involvement. While Martin will not be pushed into a deal, he offered these words.
"Right now, I'm just interested in learning more about the soccer culture," he said. "I've never really understood the rules, and in my mind, it's like basketball. I'm learning more, and it's getting pretty exciting."
Curtis! If your out there, The Borough Boys will gladly help you learn about the culture!
Another point of interest here is that once again Citi Field is being mentioned as a temporary home to a MLS team.
"Nevertheless, Citi Field hosted two international soccer games this summer and Dave Howard, a Mets executive vice president, said the stadium could become a temporary home for a New York-based M.L.S. team. Whether the Mets might be able to seek a larger role, perhaps in the construction of a soccer stadium near Citi Field, is unclear.
"We've had good discussions with Don; he's terrific," Howard said of Garber. "We share his view that soccer would undoubtedly be successful in Queens.""
Don Garber continues to focus on New York City and is always quick to state that the Cosmos have competition, but it makes you wonder why he has never mentioned possibly pairing some of those investors together.
Doesn't
take a mathematical
genius
to figure the equation out.
Cosmos (legacy and current branding) + Wilpons (Temporary venue and interest of soccer in Queens) + Other investors (Capital) = Team in New York City