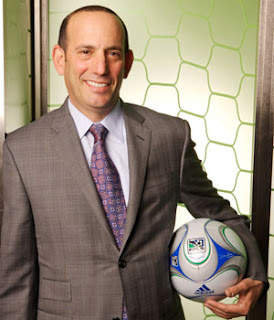 Don Garber has spoken about expansion again, this time at the AT&T Sports Franchises and Facilities conference, hosted by SBJ/SBD.
Q: Next year MLS will welcome a team in Montreal, which is the league's 19th club. You have publicly said you support growth. What markets appear best for growth?
Garber: We are focused on New York. It's a big market. The Cosmos have a great legacy and they have a great soccer history that so far the Red Bulls have not been able to tap into. For the most part Red Bulls fans come from New Jersey. The challenge for [the Cosmos] is to build a stadium, and as we all know New York City is not the easiest place to build. And we've put a high price on the 20th team. In 2007 we were asking around $7 million, and last year [teams] sold for $40 million. This could be in the $75 to $100 million [range].
Q: Is the Wilpon family still a viable option for MLS given their recent negative press?
Garber: We have talked with [the Wilpons] about MLS. They have a good situation when it comes to stadiums in the site around Citi Field. Willets Point is one of the largest pieces of undeveloped property in New York.
Nothing new in terms of information but it is interesting that he was very quick to speak about the Cosmos. It almost seems from this quote that the Cosmos are the front runner to be that New York City franchise.
Lets hope that the price of this franchise is closer to the $75 he mentioned. We understand the need for income into the league, but when you start talking about figures of $100 million, there stands a good chance that the fee will trickle down to ticket prices.
The Wilpon quote seems to emphasize a point that we have spoken about in the past. Despite many rumors out there, we do not feel the Wilpon family will be a minority owner in the Cosmos, but rather be involved in the facility, which in the long term, will generate lots of income. Think Concerts!
With the Gold Cup, a soccer game at Citi Field and Cosmos U-23 friendlies, this next month should be an entertaining one. Lets not even start to think of July and the Cosmos Copa!