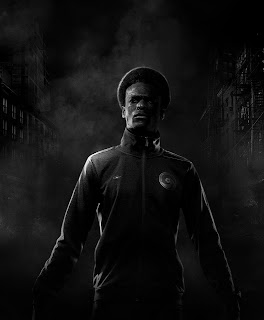 On Wednesday night, the New York Cosmos will host an event introducing their "Cosmos Blackout Collection." Without a shadow of a doubt there will be many critics out there who say that this is another example of how the Cosmos organization is only interested in selling merchandise rather than soccer.
In addition, there will also be a good number of Cosmos supporters who will be frustrated because there hasn't been any substantial news on a stadium plan or MLS entry and yet more clothing lines are being launched.
In the past,
we have publicly stated how fans are concerned about motives of an organization
that holds our team's history in their hands. For those of you who are unaware, we have met with the Cosmos front office on a monthly basis. During these sessions, we have expressed concerns you the fans might have.
Being fans ourselves, we understand your concerns. I wanted to take a moment to express to you that Wednesday's night event is nothing to get upset over. We get it… the endless amount of merchandising and advertising without an actual MLS team is getting a bit tiresome.
Please understand that in soccer as it always has been historically is nevertheless a business. What we have here is a case of a marketing team that is doing their job in creating an awareness and interest to both fans and businesses alike. You don't have to agree with these comments but in order for the Cosmos to return, awareness needs to be illuminated for MLS, NYC Politicians and investors can see the potential of bringing our team back.
From the beginning, the Cosmos organization has been honest with us. They stated that there would be inspirational games, and merchandise launchings prior to becoming an actual MLS team. By now we've all heard the rumor that the Marketing budget for the Cosmos is larger than that of any MLS team.
Maybe so but once again we as fans have to understand that while the New York Cosmos is a historical team in American Soccer History, in the end… it's still a business that needs to promote itself in order to demonstrate to the parties I've previously mentioned that they are still relevant in today's American Soccer culture.
When many of were grumbling about the Cosmos motives and we complained for not seeing any plans for an MLS team and a stadium, didn't they hear our concerns and were open to a Q&A session?
Between the
Q&A session we held with the front office
in March and the ample news reports that have been put out we have learned that the Cosmos, since February have been in discussions with the league and the city. In addition, our publication 5 Points Press interviewed MLS Executive Vice President of Communications Dan Courtemanche to make you aware of the process that it takes an organization to be awarded an MLS Franchise.
Currently there's a lot of behind the scenes plans for a long term stadium solution and the Cosmos have been
approved to join the Premier Development League (PDL) next season
.
Despite all this some will believe that the Cosmos is just a marketing brand. Believe what you may but understand that the recent actions are pretty soccer focused actions. Playing in the PDL means the Cosmos will be a team just like the Brooklyn Knights and highly respected Long Island Rough Riders.
While this is not MLS, this is a step in the right direction. If taking the route of rebuilding a soccer culture and awareness through a lower division and league was good enough for the Seattle Sounders, the Portland Timbers, the Vancouver Whitecaps, and the Montreal Impact who will join MLS next season, imagine the opportunity this will present to the Cosmos and ourselves as we get out and watch meaningful games as soon as next summer.
It should also be noted that there has to be more information on the horizon. In a few weeks time, Major League Soccer is going to be having its All Star Game at Red Bull Arena and there will be many events around the city during that week.
It is also likely that at that time, MLS commissioner Don Garber gives a "state of the league" where many topics will be covered and expansion is always on that agenda. With this being NYC, more information may present itself during Cosmos Copa and the Cosmos match against Manchester Untied on August 5th.
As of right now the New York Cosmos is not a Major League Soccer team. Patience is a virtue. Since the inception of MLS, there has been talk of that second team NYC area team which would play in the city proper. We have waited since 1996… so what's a few more months?