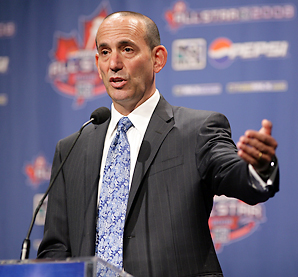 Well, Don Garber has confirmed that a New York City expansion team will cost 100 Million Dollars.
At halftime of this past weekends Red Bull-FC Dallas game, Garber was asked about expansion and he once again emphasised that the focus is on New York City for 20th spot, and once again mentioned that there are more than one groups interested.
Here are the comments we got from Daily Soccer Fix.
"We never said we were aggressively trying to go anywhere, including aggressively trying to pursue a 20th team. We'd like to have a 20thteam. We'd like that team to be in New York and we're gonna work hard to try to make that happen. At some point after that, we'll expand at the right time. We have no number in our mind as to how many teams that will be. At the right time, we'll make those decisions."
Garber said the league has had "recent discussions" with Las Vegas and Minneapolis, and just a little further back with Miami. They are in "almost daily" discussions with more than one group in New York.
Garber also added
"We have put a $100 million price tag on a New York team. We haven't sold it to anybody yet … but I don't believe the fact that we haven't closed a deal has anything to do with price."
The writer of this story feels that the Cosmos are not ready for the prime time, but clearly none of these groups are ready as none of them have a stadium plan in place.
So, whichever of these groups gets selected by Garber, is expected to have a long term stadium plan in place, and that means that they will need to pay 300-500 Million for a Stadium and another 100 Million for expansion.
To go back on our post from yesterday, many fans are frustrated with the Cosmos for their silence, but today, fans should also be upset with Garber. This price tag will ultimately and understandably find its way into your ticket prices.
The Saga continues but one thing is for sure, New York City is closer to getting a soccer team. A very damn expensive one too.